Party.San Metal Open Air 2018
09.08.2018
bis
11.08.2018
Headliner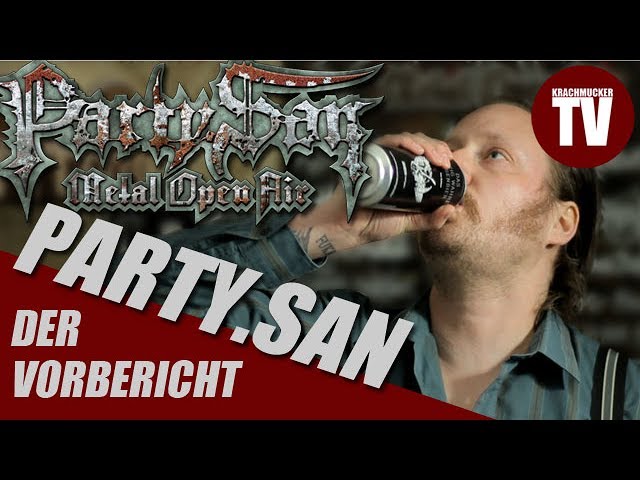 Video via Youtube streamen
Fakten:
---
Auf der Karte:
51.2632874 | 10.6293111
---
Toilettenverteilung:
264
Herren: 90 Urinale 174
Personen pro Dixi: 28.2485875706
nach Versammlungsstättenverordnung §12. Abs. 1
---
Geschichte:
Location:
Flughafen Obermehler
Plz:
99994
Ort:
Schlotheim
Strasse:
Otto Lilienthal Str. 1
Land:
Deutschland
Lineups

Party.San Metal Open Air 2018

Venom
Emperor
Watain
Unleashed
Dying Fetus
Tankard
Brujeria
Exciter
Toxic Holocaust
Carpathian Forest
Tribulation
Exhorder
Pestilence
Graveyard
Razorrape
Gutrectomy
Gorilla Monsoon
The Spirit
Goath
Ultra Silvam
Blood Incentation
Essenz
Crescent
Coffins
Grim van Doom
Evil Warriors
Anaal Nathrakh
Our Survival Despends On Us
The Black Dahlia Murder
Hierophant
Gruesome
Obscenity
Ram
Sadistic Intent
Engulfed
Guineapig
Pillorian
Skelethal
Dead Congregation
Deserted Fear
Wolfheart
Possession
Master's Hammer
The Committee
Endseeker
Harakiri for the Sky
Revenge
Benighted
Unanimated
Cookie Preference
Please select an option. You can find more information about the consequences of your choice at Help.
Select an option to continue
Your selection was saved!
Help
Keine Arme, keine Kekse
Wir verwenden Cookies, um Inhalte und Anzeigen zu personalisieren, Funktionen für soziale Medien anbieten zu können und die Zugriffe auf unsere Website zu analysieren. Außerdem geben wir Informationen zu Ihrer Verwendung unserer Website an unsere Partner für soziale Medien, Werbung und Analysen weiter. Unsere Partner führen diese Informationen möglicherweise mit weiteren Daten zusammen, die Sie ihnen bereitgestellt haben oder die sie im Rahmen Ihrer Nutzung der Dienste gesammelt haben. Sie geben Einwilligung zu unseren Cookies, wenn Sie unsere Webseite weiterhin nutzen.
Cookies akzeptieren

:
All cookies such as tracking and analytics cookies.

Keine Cookies zulassen

:
No cookies except for those necessary for technical reasons are set.
You can change your cookie setting here anytime: Datenschutzerklärung. Impressum
Back