Rockharz Open Air 2018
04.07.2018
bis
07.07.2018
Headliner
In Flames

Powerwolf

Kreator

Hammerfall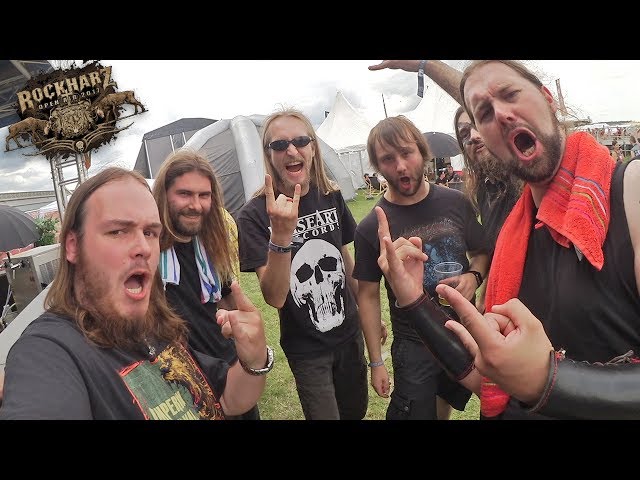 Video via Youtube streamen
Fakten:
---
Auf der Karte:
51.7419611 | 11.2305269
---
Toilettenverteilung:
320
Herren: 110 Urinale 210
Personen pro Dixi: 27.9069767442
nach Versammlungsstättenverordnung §12. Abs. 1
---
Geschichte:
Freunde der etwas härteren Töne dürften beim Rockharz Open Air im besinnlichen 9000 Seelen Städtchen Ballenstedt auf ihre Kosten kommen. Es ist ein vergleichsweise kleineres Festival mitten im schönen Harz, welches seit 1994 jährlich stattfindet. Als Festivalgelände wird mittlerweile der Flugplatz Ballenstedt genutzt. Anfänglich noch mit gerade einmal knapp einhundert Besuchern und Auftritten auf LKW-Anhängern, etablierte sich das Rockharz schnell zu einer festen Größe unter Metal-Fans. In den letzten Jahren wurden rund 12.000 Festivaltickets verkauft. Besonderes Merkmal des Rock Harz sind zwei gleichwertige Bühnen – die Rock Stage und die Dark Stage, was sich nur noch auf wenigen anderen Festival in Deutschland finden lässt. Außerdem wurde vom Festivalveranstalter so geplant, dass es keine Zeitüberschneidungen zwischen den Bandauftritten gibt. Ihr habt also die Möglichkeit wirklich jeden Bandauftritt beim Rockharz Open Air zu sehen, was uns dazu verleitet dieses Festival mit dem Prädikat "eines der besten deutschen Festivals" zu versehen.
Lineups

Rockharz Open Air 2018

AHAB
Alestorm
Amaranthe
Amorphis
Annisokay
Avatarium
Bannkreis
Battle Beast
Blind Channel
Cannibal Corpse
Cellar Darling
Crematory
Diablo BLVD
Die Apokalyptischen Reiter
Eisbrecher
Eisregen
Ensiferum
Equilibrium
Erdling
Evergrey
Exodus
Finntroll
Gloryhammer
God Dethroned
Goitzsche Front
Grailknights
Hammerfall
I'll Be Damned
In Flames
Knorkator
Kreator
Letzte Instanz
Manntra
Monument
Mr. Hurley und die Pulveraffen
Nanowar of Steel
Nothgard
Obscenity
Oni
Paradise Lost
Powerwolf
Primal Fear
Ross the Boss
Schandmaul
Serenity
Skálmöld
Skyclad
Sodom
The Other
Trollfest
Versengold
Walking Dead on Broadway
Winterstorm
Cookie Preference
Please select an option. You can find more information about the consequences of your choice at Help.
Select an option to continue
Your selection was saved!
Help
Keine Arme, keine Kekse
Wir verwenden Cookies, um Inhalte und Anzeigen zu personalisieren, Funktionen für soziale Medien anbieten zu können und die Zugriffe auf unsere Website zu analysieren. Außerdem geben wir Informationen zu Ihrer Verwendung unserer Website an unsere Partner für soziale Medien, Werbung und Analysen weiter. Unsere Partner führen diese Informationen möglicherweise mit weiteren Daten zusammen, die Sie ihnen bereitgestellt haben oder die sie im Rahmen Ihrer Nutzung der Dienste gesammelt haben. Sie geben Einwilligung zu unseren Cookies, wenn Sie unsere Webseite weiterhin nutzen.
Accept all cookies

:
All cookies such as tracking and analytics cookies.

Reject all cookies

:
No cookies except for those necessary for technical reasons are set.
You can change your cookie setting here anytime: Datenschutzerklärung. Impressum
Back