Summer Breeze Open Air 2018
15.08.2018
bis
18.08.2018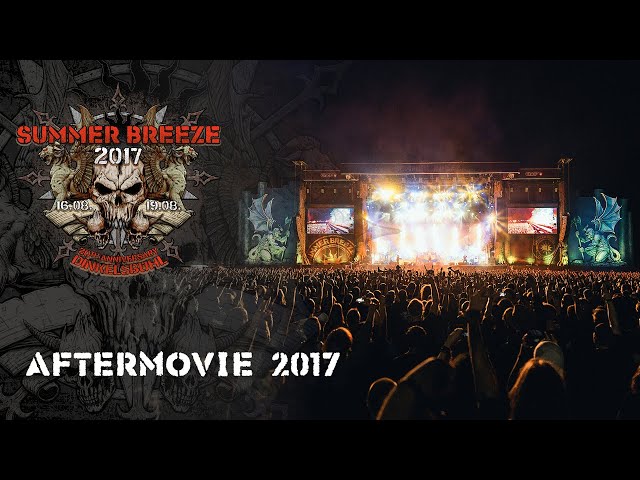 Video via Youtube streamen
Fakten
---
Toilettenverteilung:
293
Herren: 92 Urinale 201
Personen pro Dixi: 61.0820244328
nach Versammlungsstättenverordnung §12. Abs. 1
---
Das Summer Breeze findet seit 2006 jährlich auf dem Flugplatz des Aeroclubs in Dinkelsbühl statt. Dinkelsbühl ist eine kleine Gemeinde in Baden-Württemberg und liegt genau zwischen Stuttgart und Nürnberg. Dort geben Bands aus den Genres Extreme Metal, Hard Rock und Punk auf mehreren Stages Konzerte. Das Summer Breeze erfreut sich seit seiner Gründung 1997 an einer zunehmenden Anzahl von Besuchern – aktuell werden jährlich 35.000 Karten verkauft. Der Veranstalter bietet einen Shuttleservice zum Campingplatz an, der schon am Dienstag seine Pforten öffnet. Allerdings nur für die Besucher, die bereit sind weitere 10 Euro zu investieren. Klarer Vorteil des Festivals: Freie Platzwahl!
Sicherlich eines der spannendsten und besten Festivals Deutschlands.
Lineups

Summer Breeze Open Air 2018

Acranius
Alcest
Alestorm
Alien Weaponry
Amaranthe
Ancst
Annisokay
Any Given Day
Arch Enemy
At the Gates
Attic
Auðn
Backyard Babies
Baest
Bannkreis
Beartooth
Behemoth
Betraying the Martyrs
Bloodbath
Broken Teeth
Caliban
Cannibal Corpse
Carnifex
Carpathian Forest
Carpenter Brut
Celeste
Comeback Kid
Counterparts
Danko Jones
Deathrite
Die Apokalyptischen Reiter
Dirkschneider
Doro
Dying Fetus
Einherjer
Eisbrecher
Ereb Altor
Eskimo Callboy
Evil Scarecrow
Exhorder
Farmer Boys
Feuerschwanz
Forever Still
Fractured Insanity
Goatwhore
Graveyard
Gyze
Harakiri for the Sky
Heilung
J.B.O.
Jasta
Jinjer
Kadavar
Kataklysm
Korpiklaani
Lüt
Malevolence
Marduk
Megaherz
Misery Index
Mr. Hurley und die Pulveraffen
Necrotted
Night in Gales
Northlane
Obscura
Ondt Blod
Orange Goblin
Orden Ogan
Origin
Orphaned Land
Pallbearer
Papa Roach
Paradise Lost
Pillorian
Powerwolf
Pro-Pain
Ram
Rolo Tomassi
Ross the Boss
Saltatio Mortis
Satyricon
Schandmaul
Seasons in Black
Sepultura
SIBIIR
Sick of It All
Sirenia
Solstafir
SpitFire
Stillbirth
Tankard
The Black Dahlia Murder
The Night Flight Orchestra
The Sleeper
The Spirit
Toxic Holocaust
Turisas
Venues
Vreid
W.A.S.P.
Warbringer
Wheel
Wolfheart

Summer Breeze Open Air 2017

Amon Amarth
Korn
Megadeth
Amorphis
August Burns Red
Children of Bodom
Hatebreed
In Extremo
Whitechapel
1349
Architects
Asphyx
Battle Beast
Belphegor
Bembers
Benighted
Betontod
Black Inhale
Cellar Darling
Chelsea Grin
Corvus Corax
Crisix
Crowbar
Cryptopsy
Cut Up
Cypecore
Dark Tranquillity
Dawn of Disease
Decapitated
Delain
Der Weg einer Freiheit
Devin Townsend Project
Double Crush Syndrome
Eis
Eisregen
Eluveitie
Emil Bulls
End of Green
Ensiferum
Epica
Erdling
Excrementory Grindfuckers
Fallujah
Fiddler's Green
Finntroll
Firkin
Firtan
Fit for an Autopsy
Fjoergyn
Gorguts
Haggard
Havok
Heaven Shall Burn
Humiliation
Insomnium
Knorkator
Kreator
Kontinuum
Life of Agony
Long Distance Calling
Memoriam
Mgła
Miss May I
Mono Inc.
Moonspell
Mors Principium Est
Motorjesus
Mr. Hurley und die Pulveraffen
Night Demon
Nile
Nothgard
Obituary
Oceans Ate Alaska
Overkill
Possessed
Powerwolf
Primal Fear
Randale
Revocation
Sacred Reich
Shiraz Lane
Sister
Skeleton Pit
Sonata Arctica
SpitFire
Spoil Engine
Steve 'N' Seagulls
Suffocation
Supernova Plasmajets
Terror
TesseracT
The Charm the Fury
The Lurking Fear
The New Black
The New Roses
Tiamat
Turbobier
Uada
Unzucht
Vital Remains
Waldgeflüster
Wardruna
While She Sleeps
Wintersun
Within the Ruins
Wolfchant
Xandria
Cookie Preference
Please select an option. You can find more information about the consequences of your choice at Help.
Select an option to continue
Your selection was saved!
Help
Keine Arme, keine Kekse
Wir verwenden Cookies, um Inhalte und Anzeigen zu personalisieren, Funktionen für soziale Medien anbieten zu können und die Zugriffe auf unsere Website zu analysieren. Außerdem geben wir Informationen zu Ihrer Verwendung unserer Website an unsere Partner für soziale Medien, Werbung und Analysen weiter. Unsere Partner führen diese Informationen möglicherweise mit weiteren Daten zusammen, die Sie ihnen bereitgestellt haben oder die sie im Rahmen Ihrer Nutzung der Dienste gesammelt haben. Sie geben Einwilligung zu unseren Cookies, wenn Sie unsere Webseite weiterhin nutzen.
Cookies akzeptieren

:
All cookies such as tracking and analytics cookies.

Keine Cookies zulassen

:
No cookies except for those necessary for technical reasons are set.
You can change your cookie setting here anytime: Datenschutzerklärung. Impressum
Back